Corrugation Machine Roller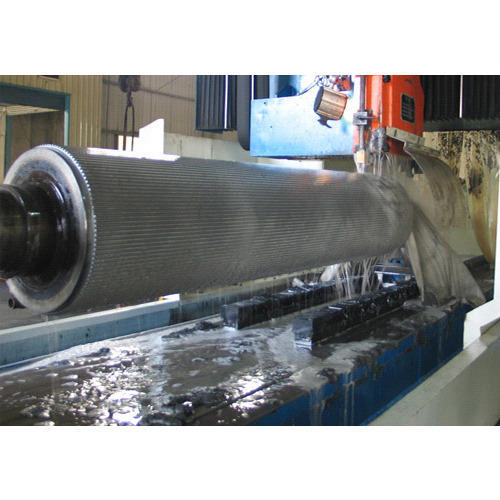 Corrugation Machine Roller
Price And Quantity
Product Specifications
Corrugation Machine Roller

Stainless Steel
Product Description
A corrugation machine roller is a component used in corrugated box manufacturing. Corrugated boxes are widely used for packaging and shipping due to their strength and durability. These boxes are made from sheets of corrugated cardboard, which consists of three layers: a wavy inner layer (fluting) sandwiched between two flat outer layers. Corrugation machine rollers play a crucial role in the process of shaping and forming these layers.
# There are typically two main types of rollers used in corrugation machines:
1. Single Facer Roller: The single facer is a key part of the corrugated box manufacturing process. It takes the paperboard or liner material and corrugates it by passing it between two rollers. One of these rollers is typically referred to as the "corrugation roller." It has a pattern on its surface that imparts the characteristic corrugated shape to the liner material.
2. Double Facer Roller: After corrugation, the fluted material is combined with another flat liner, creating the corrugated board. The double facer is used to glue the flat liner to the corrugated material. This machine has a set of heated rollers, which are used to heat the adhesive and press the layers together.
These rollers are usually made from high-quality materials to ensure durability and precision. They must be maintained and calibrated to produce consistent and high-quality corrugated boards for packaging.
# FAQ:
Q. What is a corrugation machine roller used for?
Ans: Corrugation machine rollers are used in the manufacturing of corrugated boxes. They are responsible for shaping and bonding the layers of corrugated cardboard, creating the characteristic corrugated pattern and ensuring the layers adhere properly.
Q. How does a corrugation machine roller work?
Ans: Corrugation machine rollers work by applying pressure and heat to the corrugated medium (fluting) and liner material to create the corrugated shape and bond the layers together. The pattern on the rollers imparts the characteristic corrugated pattern to the liner material.
Q. What materials are corrugation machine rollers typically made of?
Ans: Corrugation machine rollers are typically made of materials like steel or other alloys that can withstand the pressure, heat, and wear associated with the corrugation process. These materials are chosen for their durability and long lifespan.
Q. What are the different types of corrugation machine rollers?
Ans: The two main types of corrugation machine rollers are single facer rollers and double facer rollers. Single facer rollers are used for corrugating the liner material, while double facer rollers are used for bonding the corrugated medium with the liner material.
Q. How do I maintain corrugation machine rollers?
Ans: Proper maintenance is crucial for ensuring the longevity and effectiveness of corrugation machine rollers. This includes regular cleaning, lubrication of moving parts, and periodic inspections for wear and tear. Additionally, alignment and calibration are essential to maintain the quality of corrugated board production.
Q. What are some common issues with corrugation machine rollers?
Ans: Common issues include roller wear, misalignment, and adhesive problems. Roller wear can lead to a loss of quality in the corrugated board, while misalignment can cause production issues. Adhesive problems may result in inadequate bonding.
Q. Can corrugation machine rollers be repaired or replaced?
Ans: Depending on the extent of wear or damage, corrugation machine rollers can be repaired or replaced. Routine maintenance can extend the life of rollers, but if they are significantly worn or damaged, replacement may be necessary to maintain product quality.
Q. Are there safety considerations when working with corrugation machine rollers?
Ans: Yes, working with corrugation machines and rollers can be hazardous. Safety measures, such as proper training, wearing personal protective equipment, and following safety protocols, should be observed to prevent accidents and injuries.
Q. What factors affect the quality of corrugation produced by these rollers?
Ans: Quality depends on factors like roller condition, alignment, temperature control, adhesive quality, and the quality of raw materials (liner and corrugated medium).
Q. Are corrugation machine rollers used in other industries?
Ans: While corrugation machine rollers are primarily used in the packaging industry for corrugated boxes, similar principles apply to industries such as paper manufacturing, printing, and some forms of material processing.