Anvil Cover (HB9139H)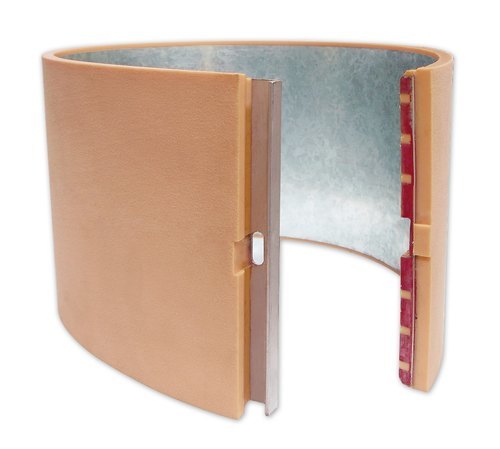 Anvil Cover (HB9139H)
Price And Quantity
Product Specifications
Anvil Cover (HB9139H)

Peach
Product Description
Anvil Cover (HB9139H) designed by us, can be extended to the maximum rotation time thanks to a patented urethane formulation that can withstand the hardest die cutting applications. Around the full diameter of the cylinder, the solid steel backing may eliminate the soft spot over the keyway of cutting. During rotation, our product can give a smooth surface. Installation is simple and die cutter downtime is reduced thanks to the lock-bay and knuckle systems. This is very effective and economical to use.
# FAQ:
1. What is an anvil cover?
Ans: An anvil cover is a protective shield or cap used in various industrial applications, particularly in the printing and manufacturing industries. It is placed on the anvil of a machine, such as a printing press, to protect the anvil's surface and ensure precise and consistent results.
2. Why is an anvil cover important?
Ans: An anvil cover plays a crucial role in preventing damage to the anvil's surface and maintaining the quality of the finished product. It helps ensure uniform pressure and consistency during processes like printing, embossing, or die-cutting.
3. What materials are anvil covers made of?
Ans: Anvil covers can be made from various materials, including rubber, polyurethane, silicone, and other elastomers. The choice of material depends on the specific application and the desired properties, such as hardness, durability, and resistance to wear.
4. How do I select the right anvil cover for my application?
Ans: Choosing the right anvil cover involves considering factors like the type of machinery, the material being processed, the required pressure, and the expected wear and tear. It's best to consult with a manufacturer or supplier experienced in anvil covers for guidance.
5. Can anvil covers be customized for specific needs?
Ans: Yes, many manufacturers offer customization options for anvil covers. This includes selecting the appropriate material, size, and design to meet the unique requirements of your application.
6. How often should anvil covers be replaced?
Ans: The lifespan of anvil covers can vary significantly depending on factors like usage, material quality, and the specific application. Regular inspections and maintenance are essential to determine when replacement is necessary.
7. Are anvil covers reusable?
Ans: Anvil covers are typically designed to be reusable but may need periodic maintenance and cleaning to ensure their longevity and effectiveness.
8. How do I clean and maintain anvil covers?
Ans: Cleaning and maintaining anvil covers involve removing any residue, ink, or debris that may accumulate on the surface. This can often be accomplished through simple cleaning methods such as wiping with appropriate solvents or cleaners.
9. Are anvil covers only used in printing applications?
Ans: No, anvil covers have a wide range of applications beyond printing. They are used in various industries where precision, consistent pressure, and protection of machinery components are crucial, including die-cutting, embossing, laminating, and more.
10. Where can I purchase anvil covers?
Ans: Anvil covers can be purchased from industrial equipment suppliers, specialized manufacturers, and online marketplaces. It's advisable to work with reputable suppliers who can provide guidance on selecting the right product for your needs.