4 Bar Rotary Creasing Machine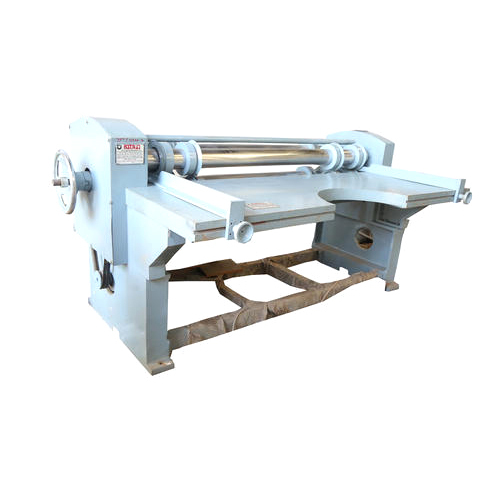 4 Bar Rotary Creasing Machine
Price And Quantity
Product Specifications
4 Bar Rotary Creasing Machine

Industrial
Product Description
4 Bar Rotary Creasing Machine offered by us, is custom-made to meet their individual specifications. It is well suited for industrial applications because to its international standards of quality, robustness, and long-term performance. This machine is very easy to install and simple to operate. We can provide a thin edge slitter for corrugated board production lines. It is tested under various parameters to ensure its high quality and great durability. The use of pre-pressed paper enables a consistent paper transmission.
# 4 Bar Rotary Creasing Machine Specifications:
1. Power: 1.1 kw
2. Voltage: 415 V
3. Driven Type: Motorised
4. Model Name/Number: Sn005
5. Motor Power: 2 HP
6. Material: Steel
7. Automation Grade: Semi-Automatic
8. Type: Manual
# FAQ:
Q. What is a 4-Bar Rotary Creasing Machine?
Ans: A 4-bar rotary creasing machine is a specialized piece of equipment designed to create creases, score lines, or perforations on paper or cardboard sheets. It uses a rotary creasing mechanism with four bars to apply pressure and create consistent, high-quality creases.
Q. What are the Benefits of Using a 4-Bar Rotary Creasing Machine?
Ans: The main benefits of using this machine include improved crease quality, faster production, reduced material waste, and the ability to handle various materials with precision. These machines are essential for achieving clean, accurate folds in printed materials.
Q. What Types of Materials Can a 4-Bar Rotary Creasing Machine Process?
Ans: These machines can handle a wide range of materials, including paper, cardboard, corrugated board, chipboard, laminates, and more. The versatility of these machines makes them suitable for various applications in the printing and packaging industry.
Q. How Does a 4-Bar Rotary Creasing Machine Work?
Ans: The machine typically consists of four rotary creasing bars that press against the material as it passes through. These bars create indentations or score lines in the material without cutting it. The depth and spacing of the creases can often be adjusted to suit specific requirements.
Q. Can a 4-Bar Rotary Creasing Machine Handle High-Volume Production?
Ans: Yes, these machines are designed for high-volume production. They are capable of processing a large number of sheets per hour, making them suitable for commercial printing and packaging operations.
Q. Is Setup and Adjustment Difficult for These Machines?
Ans: The setup and adjustment of a 4-bar rotary creasing machine can vary depending on the specific model and manufacturer. However, most machines are designed to be user-friendly and offer easy-to-follow instructions for configuring crease depth, spacing, and other settings.
Q. What Maintenance is Required for a 4-Bar Rotary Creasing Machine?
Ans: Regular maintenance is essential to keep the machine in optimal working condition. This may include cleaning, lubrication, and periodic inspection of components. It's important to follow the manufacturer's maintenance recommendations to ensure longevity and consistent performance.
Q. Are There Safety Considerations for Operating These Machines?
Ans: Yes, safety is a crucial aspect of operating any industrial equipment. Users should receive proper training on machine operation and adhere to safety guidelines, including wearing appropriate personal protective equipment. Additionally, the machine should be equipped with safety features, such as emergency stop buttons and guards.
Q. Can 4-Bar Rotary Creasing Machines Be Used in Conjunction with Other Printing Equipment?
Ans: Yes, these machines are often integrated into larger printing and finishing lines. They can be used in combination with other equipment like printing presses, die-cutters, and folder-gluer machines to create a complete production line for various printed products.
Q. Where Can I Purchase or Rent a 4-Bar Rotary Creasing Machine?
Ans: You can purchase or rent 4-bar rotary creasing machines from specialized equipment suppliers, printing and packaging machinery manufacturers, or through industrial equipment dealers. It's important to research and choose a reputable supplier that offers the specific features and capabilities you need for your production requirements.